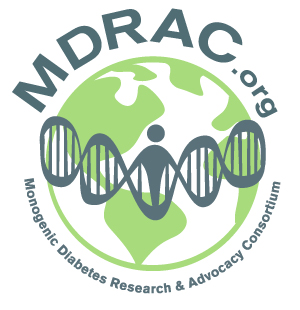 Coming Soon!
Monogenic diabetes is diabetes (high blood sugar) caused by a change in a single gene.
The Monogenic Diabetes Research and Advocacy Consortium (MDRAC) is a group of patients, providers, and researchers dedicated to recognizing, diagnosing, and promoting individualized therapy for people with all types of diabetes, particularly monogenic diabetes.
Want to learn more about monogenic diabetes?
Do you want to learn more about similarities and differences between type 1 diabetes, type 2 diabetes, and monogenic diabetes (including types known as MODYs)? How a correct diagnosis of monogenic diabetes impacts treatment and implications for family members? How you can get involved? Please watch this space! Meanwhile, please click here.
University of Exeter Diabetes Genes Page
U.S. Monogenic Diabetes Registry
Monogenic Diabetes Researach and Advocacy Project (MDRAP)
NorthShore Personalized Medicine
Massachusetts General Hospital Diabetes Genetics Clinic
RADIANT: A Rare and Atypical Diabetes Network